Details

Zugriffe: 4006
A Landscape, and Flight, both painted very freely.Flight, however, poses the question, stay or flee ?
First landscape : 60X60cm, acrylic on canvas, 2018
Flight 60X60cm, acrylic on canvas, 2018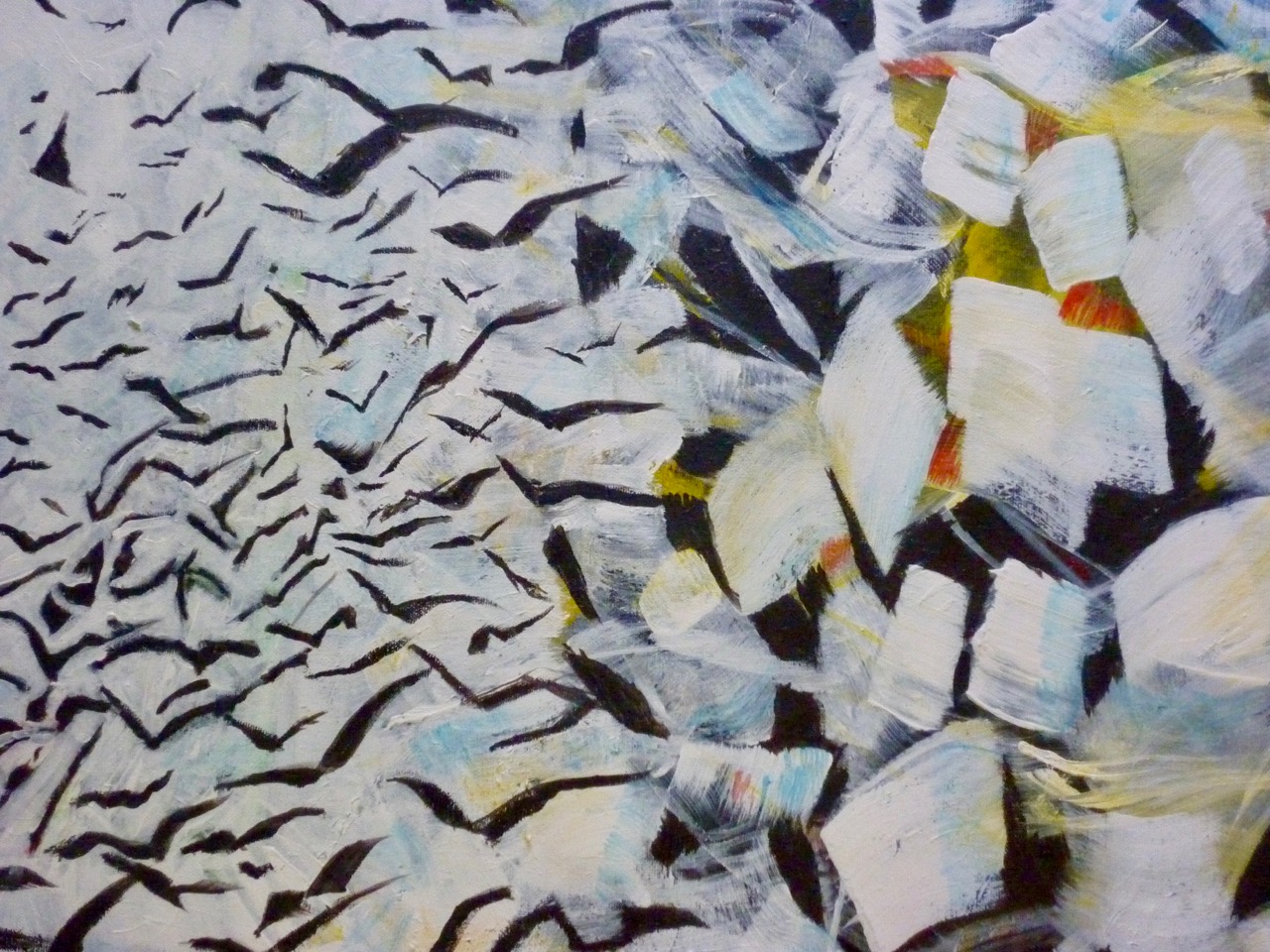 Details

Zugriffe: 5675
The Cat and the angel, acrylic on hardboard
Cat and the Angel, is a memorial to my beloved cat Squint, who died last year.It shows her, tumour and all, in dialogue with her fate.It is painted on a black background, using bright, glowing colours, a mixture of melancholie and mirth.
Snatches of Tramline, is a quote from a poem by W.H.Auden, wonderful ! A description of a defunkt industrial lanscape in Northern England.Here I have used an almost monochrome palette, which is also a part of Exploring Black, a theme which interests me at the moment, of which Black and Light is also a part.
Black and Light, a crylic on canvas, 45X55cm:
Tall black city, 60X60cm
Tall Black City, a quote from Robert Louis Stevenson, to describe Edinburgh, where I spent a lot of time last year.
Tel Aviv, acrylic on canvas, 36X47cm
Tel Aviv, a study in the use of diagona
Autumn Bouquet, acrylic on hardboard, 54X38cm
Details

Zugriffe: 4878
There are 5 new paintings in my Gallery:
Dynamic Bridge:
First Bridge:
Scottish Impressions:
Soaring Bridge:
War Child:
Details

Zugriffe: 4019
Hallo Friends,
The Retrospective in Le Trèfle in Truchtersheim PAST,PRESENT;FUTURE is now over.Interesting to see the fruit of 15 year's work brought together in these pleasant surroundings.
Some remarks in the Visiter's book alluding to the Exhibition:Roughly translated from the French;
.......The paintings are a feast for eyes and soul, thank you !
...... Hypnotic, astonishing........
...... Mysterious, full of fantasy, I liked it!
That's all for the moment, Sincerely, Prue Sheridan.
View of Exhibition Past,Present,Future , Le Trèfle, Truchtersheim:
Details

Zugriffe: 4220
Caprice 01, Acrylic on canvas, 70x50cm:
Still Life with soft toys, Acrylic on canvas, 70x50cm:
Three Mothers, Acrylic on canvas, 70x50cm:
Details

Zugriffe: 4171
Hallo Everybody,
Just to let you know that my next exhibition opens on the 15 February , 2017, at the Communauté de Communes du Kochersberg - Le Trèfle, in F.67370 Truchtersheim
It is entiteled, PAST,PRESENT,FUTURE and consists of a large collection of works, from the early days in 2003, up until the present day, with a nod to the future.
I am working with the extremely professional and creative Marie-Lin Battaglia who is responsible for the creative and artistic life in Le Trèfle, and am looking forward with some excitement to this showing, which lasts until 24 April.
The Vernissage will take place on the 18 February, at 11 in the morning.However the exhibition is open , from Wednesday 15.
That's all for now, hope to see some familier faces at the Vernissage,
Prue.